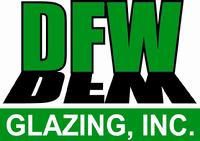 Phone 817-696-9500 Fax 817-696-9506
Welcome to DFW Glazing Inc.

DFW Glazing offers a wide array of glass expertise. We are a dedicated subcontractor who installs storefront, curtainwall, aluminum windows, aluminum doors, all-glass doors, automatic sliding doors, translucent panels, and offer many types of glass within todays commercial industry.

We involve ourselves with today's leading manufacturers of aluminum and glass thus to ensure we maintain quality products as well as quality installation.

Please take a few minutes to browse through our website so that you can get an idea of our work, products, and get to know a little bit about us.

Thanks in advance for your visit!

DFW Glazing, Inc. Copyright 2008